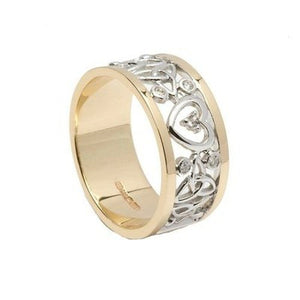 Heart & Trinity Knot diamond Band
WED413 Boru
$110,84943

$110,849.43
Tax included.
Shipping
calculated at checkout.
---
---
Ladies Heart & Trinity Knot Diamond Wedding Band
Code: WED413 Boru
Metal: 14ct white gold centre with yellow gold trim.
Weight: 8.9gms approx.
Width: 8mm approx.
Stone Details: Conflict Free diamonds. 0.09cts Colour: H Clarity: SI1 Cut: Brilliant
--
In ancient times it was believed that the heart was the center of human passion and also the seat of the soul. Therefore it was seen as the place where spirit and body united. The shape although most commonly thought to represent the human heart, has also been linked to the shape of the vine leaf and the wings of doves joined together. Our association with the heart symbol in our stunning wedding rings is all about love and passion - as the universal symbol of love. This beautiful wedding band combines the heart with the Celtic Trinity Knot. . The Trinity Knot has been adopted from ancient Celtic art by Christianity as a symbol of the Holy Trinity; Father, Son & Holy Spirit. To the Celts it is believed to have meant many things; mind, body, spirit; earth, sea and sky and beginning, middle and end - continuity.  The Trinity Knot is the most well known and loved of all Celtic knots and in modern times has been given as a token of promise; to love, to honour and to protect.
This sentional Irish wedding ring combines two beautiful symbols together elegantly. Handcrafted in Ireland and assayed at Dublin Castle.