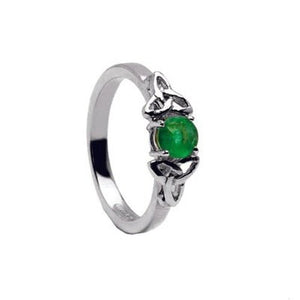 Emerald Two Tone Trinity Knot
ENG3-14KW-5 boru
$1,103,56750

$1,103,567.50
Tax included.
Shipping
calculated at checkout.
---
---
This Celtic engagement ring in 14K white gold is finished to the highest of standards by Irish goldsmiths. It is assayed at Dublin Castle where it receives its hallmark and is elegantly presented in its own deluxe packaging.
It is available in a range of precious metal choices and a matching wedding ring is also available to complete your bridal set.
Weight: 3.6gms approx.
WIdth: Band 2.5mm at top approx.
Stone Details: 4.25 mm Brazilian Emerald. 0.35-0.38cts. Round Cut
Complimentary Wedding Ring Package For All Pairs of Rings includes



Free Clean & Polish of Engagement ring


Free Engraving inside both rings where possible


Free Wedding Coin, engraved with both names and wedding date.


Discount off all bridal party gifts.


--
The sophisticated emerald is known for its intense radiant colour, the colour of life and spring. It is also known as the stone of successful love and is said to embody unity, compassion and unconditional love.
The stone is mounted proudly on top of the white gold band and decorated with two Trinity knots – one to each side.
The Trinity Knot is the most well known and loved of all Celtic knots and in modern times has been given as a token of promise; to love, to honour and to protect.
The Trinity Knot has been adopted from ancient Celtic art by Christianity as a symbol of the Holy Trinity; Father, Son & Holy Spirit. To the Celts it is believed to have meant many things; mind, body, spirit; earth, sea and sky and beginning, middle and end – continuity.